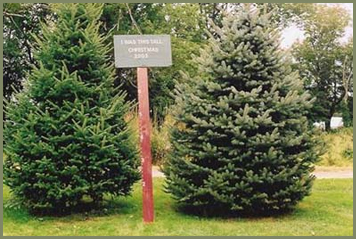 We are closed for the season. Thanks for your support, have a safe and happy holiday season!


Copyright 2010 Crane Neck Tree Farm

Crane Neck Christmas Tree Farm



Pricing

(Sales Tax Included)

Cut Your Own

Fraser Fir: $60

Balsam Fir: $55-$60 (location specific)

Douglas Fir: $60

Blue Spruce:$35

Tagged for Clearence:$5-$50 (Limited quantities. Like recent years, we will have some trees marked at reduced prices that we are interested in clearing out.) Lots of sales over the last ten days, not many left.

Yes! Our $5 lot will be open (you get what you pay for).

Please ask if you would like a tabletop sized tree. They are available in certain areas. Otherwise, small trees cost the same as large trees.

Pre-cut Trees

$15-$55, depending on size, variety, and quality.

*All Prices are tax included

114 Crane Neck Street West Newbury, Massachusetts 01985

Click on any picture above to enlarge

Crane Neck Tree Farm has been a fun part of family Christmas traditions for over 35 years. Come out and see us this Christmas season, have some fun, take some pictures, drink some cocoa, and find the tree that will help make your holiday season special.

Important Note: This Website is the only official website for Crane Neck Tree Farm. Some other websites have published dates/hours of operation and inventory information. We cannot confirm nor control the accuracy of information disseminated through other websites.

Massachusetts Christmas Tree Association Member

Cut Your Own

Fraser Fir: Up to 6'

Beautiful trees, but no more height.

Balsam Fir: Up to 6'

Good selection to 6', $40 lot essentially sold out. Very limited selection above 6'.

Douglas Fir: Up to 7'

Good selection to 7'. Best remaining inventory. Be prepared for the hike.

Blue Spruce: To 6'

A few taller, okay selection, prices being reduced for clearance. Some crooked trunks, please examine carefully.

Pre-cut Trees

Fresh from our farm: 4'-8'

Quality trees: some good deals, while supplies last, supplies dwindling.

As conditions change, tree selection descriptions will be updated.

Helpful Hint: We strongly suggest you measure the area in your home where you plan to place your tree. Keep in mind that trees look smaller in the field. We do provide measuring sticks, but if you would like to bring a measuring tape, it is helpful.